AP Rentals supports contractor on Mobile Cabin Hospital project with prompt action
As one of the major equipment and solution provider in Hong Kong, AP Rentals Limited (AP Rentals), strongly supports the construction of mobile cabin hospital in Hong Kong, and contributes in stabilizing the COVID-19 situation.
Since February, the epidemic situation in Hong Kong has become more severe. The number of confirmed COVID-19 cases rises sharply. To stop the spread of virus, the Central Government assists in constructing the community isolation and treatment facilities (mobile cabin hospital) in various places in Hong Kong, such as Tsing Yi, Former site of the Boxes in San Tin, Tam Mei of Yuen Long, Hung Shui Kiu, Hong Kong-Zhuhai-Macao Bridge, etc. which could receive around 50,000 confirmed patients. In this huge and urgent construction project, AP Rentals promptly replied to the request from the main contractor. Through an overnight effort, we started sending out the generator sets, light tower, etc. to the main contractor in less than 24 hours from receiving the order. This allows the main cabin hospital construction sites to have sufficient and steady electricity and lighting supply to speed up the building progress, as well as a non-stop electricity supply when the hospitals are operating.
Mr. Lau Pong Sing, Chairman, CEO and Executive Director of AP Rentals, said, "We have the spirit in service oriented and serving the society for long time. We support the building of Mobile Cabin Hospital with our largest effort. We hope this can lower the epidemic situation, and resume our normal living as soon as possible."
For over 40 years AP Rentals has continuously supported the development of Hong Kong through participating in various infrastructure projects. We will keep on providing equipment and electricity solutions to construction and entertainment projects, and we grow with Hong Kong together.
About AP Rentals Holdings Limited
AP Rentals Holdings Limited (stock code: 1496) is a leading equipment rental-related solution provider and was listed on the Main Board of the Hong Kong Stock Exchange on 8 April 2016. The Group offers a wide range of construction, E&M engineering and event and management equipment, and equipment rental-related solutions with value-added services in Hong Kong. The Group's rental equipment principally covers power and energy equipment, high-reach equipment and material handling equipment. The Group has participated in numerous large landmark construction projects including the "Ten Major Infrastructure Projects" in Hong Kong, specifically the South Island Line, Shatin to Central Link, Tuen Mun-Chek Lap Kok Link and Tuen Mun Western Bypass, Kai Tak Development Plan, Guangzhou-Shenzhen-Hong Kong Express Rail Link and the Hong Kong-Zhuhai-Macao Bridge. For more details, please visit its official website: www.aprentalshk.com.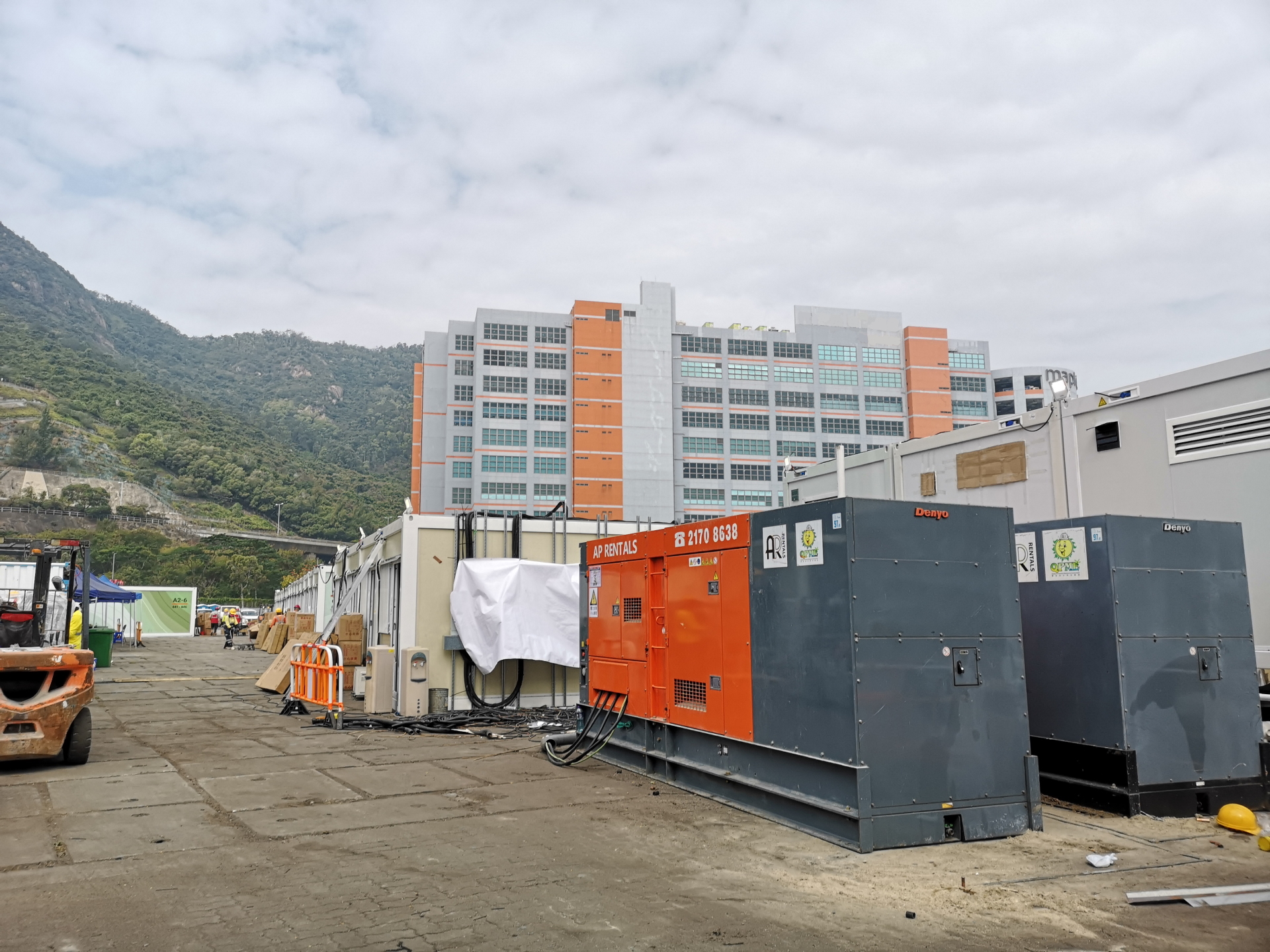 AP Rentals supply generator sets to the Mobile Cabin Hospital in Tsing Yi, Hong Kong.